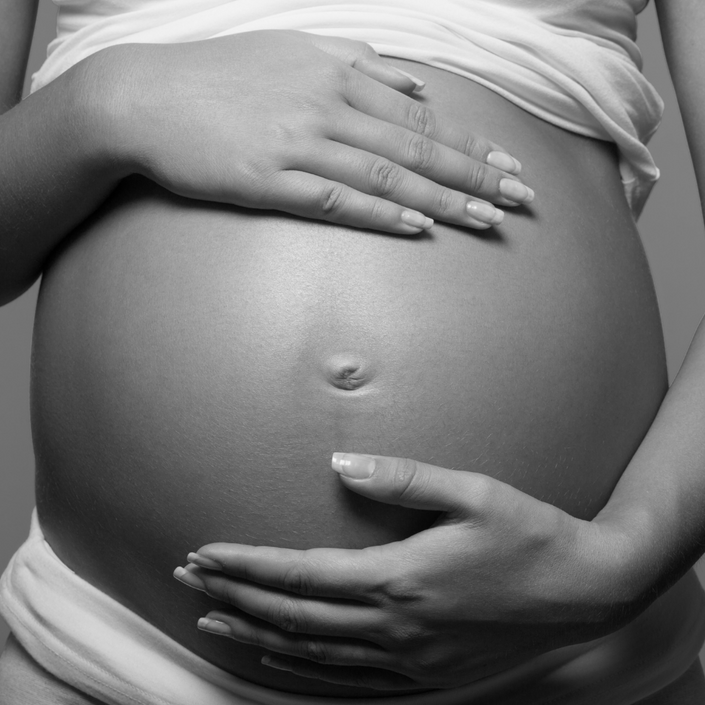 Hypnobirthing
The renowned childbirth education program for a calmer, comfortable, easier and shorter labour and a gentle birth for your baby
Are you feeling anxious about your upcoming labour?
Perhaps you've looked down at your growing belly and wondered how on earth you're going to get your baby out?
Are you scared that your labour is going to be excruciatingly painful, or that you might have medical complications during labour and perhaps end up having an emergency C-section that takes weeks to recover from?
Perhaps you've decided that you'll take 'all the pain relief drugs on offer' but you're worrying about how opiates in your baby's system could then impact your baby's ability to bond with you and successfully establish breastfeeding after his or her birth.
You might also be worried about how you will hold, bond with and feed your baby after birth if you are drowsy and drugged from medical pain relief, or sore from surgery and stitches.
Maybe you just don't feel fully prepared for your labour or what to expect in the birthing suite. Perhaps you're starting to feel like you're just another patient in the hospital system and the beautiful birth you had envisaged is slipping away because you don't know how to advocate for your and your baby's needs.
If any of this sounds like you, then read on to discover why Hypnobirthing mothers birth more comfortably, calmly, easily, have shorter labours and are less likely to end up having complications in labour that result in intrusive medical interventions and painful medical procedures, such as episiotomies and C-sections.
BONUS COURSES - Antenatal Program & Online Childbirth Classes
Also included is an online antenatal program and filmed antenatal hospital classes. You need a toolbox of methods and techniques for labour and these additional inclusions will ensure you are thoroughly prepared for your labour with lots of knowledge and techniques ready to use on your big day.
BONUS $50 off if you sign up today
Use code 'FIFTY' to get $50 off the price of $197 if you sign up today- Pay only $147 for Hypnobirthing plus the 2 bonus programs - the Antenatal Program and the Online Childbirth Education Classes

Imagine if....
Your labour was shorter - 45% of Hypnobirthing mothers birthed in under eight hours.

Your labour was easier because you had a range of techniques to draw on to successfully manage, minimise or even eliminate labour pain.

Your labour was calm, comfortable and so relaxed that you didn't need any medical pain relief - 77% of Hypnobirthing mothers who birthed vaginally did so without epidural anaesthesia.

Your labour didn't result in a cascade of intrusive and sometimes painful medical interventions that ended up with you having an episiotomy from tearing down there and then an emergency

C-section - only 17% of Hypnobirthing mothers birthed via C-section compared with the national average of 32%.

Your baby didn't need painful suction or forceps to be forcefully pulled out of you, and as a result, your baby wasn't bruised or damaged in any way after his or birth. Instead your baby was calm, relaxed, alert, happy, cried less, settled and slept better and due to not having pain medication drugs in his or her system, your baby was successfully able to attach and breastfeed.

You felt energised after the birth, fully alert and able to immediately bond with, engage with and feed your baby.

Your body wasn't bruised or stitched up and your recovery in the days and weeks after birth was quick, comfortable and painless.

You look back and feel positive and empowered about your labour and birth experience and you can't believe you ever had doubts, fears or worries about your ability to labour easily, comfortably and joyfully birth your baby.
Learning Hypnobirthing will:
Help you be prepared to give birth calmly and confidently knowing exactly what to expect and what to do before, during and after labour.

Help you feel connected to your body, your baby and your birth companion.

Help you feel informed about your choices and confident to advocate for your chosen birth preferences.

Help you navigate different birth situations whatever turn your labour and the birth of your baby takes.

Teach you and your birth companion proven labour techniques to reduce fear and pain in labour.


Reduce the chance of postnatal depression and anxiety.

Improve the chances of having an alert, calm baby that cries less and settles easily, sleeps better and is able to successfully establish breastfeeding.
Learning traditional antenatal childbirth techniques will:
Give you additional knowledge about pain relief options, medical interventions and caesarean sections should your labour or the birth of your baby take an unexpected turn.

Give you additional techniques and tools to help you labour and birth your baby.
Hypnobirthing Philosophy
You will experience birthing in an atmosphere of calm relaxation, free of the fear that prevents the birthing muscles of your body from functioning as nature intended them to. In this calm state, your body's natural relaxant, endorphins, replaces the stress hormones that constrict your birth muscles and result in labour pain.
Course Inclusions:
Videos coaching series teaching you Hypnobirthing - 6 modules.

Hypnosis tracks for use during pregnancy, labour and to play to your baby after birth to help him or her settle and sleep.

Birth preferences template.

Affirmation cards.

Downloads including birthing scripts.
BONUS 1: Hospital antenatal program (27 Videos)
BONUS 2: Filmed hospital childbirth education classes (5 Videos)
BONUS 3: Ongoing free email support with me, your Hypnobirthing instructor.
All natural birth has a purpose and a plan; who would think of tearing open the chrysalis as the butterfly is emerging? Who would break the shell to pull the chick out?
Program 1: Hypnobirthing - What you will learn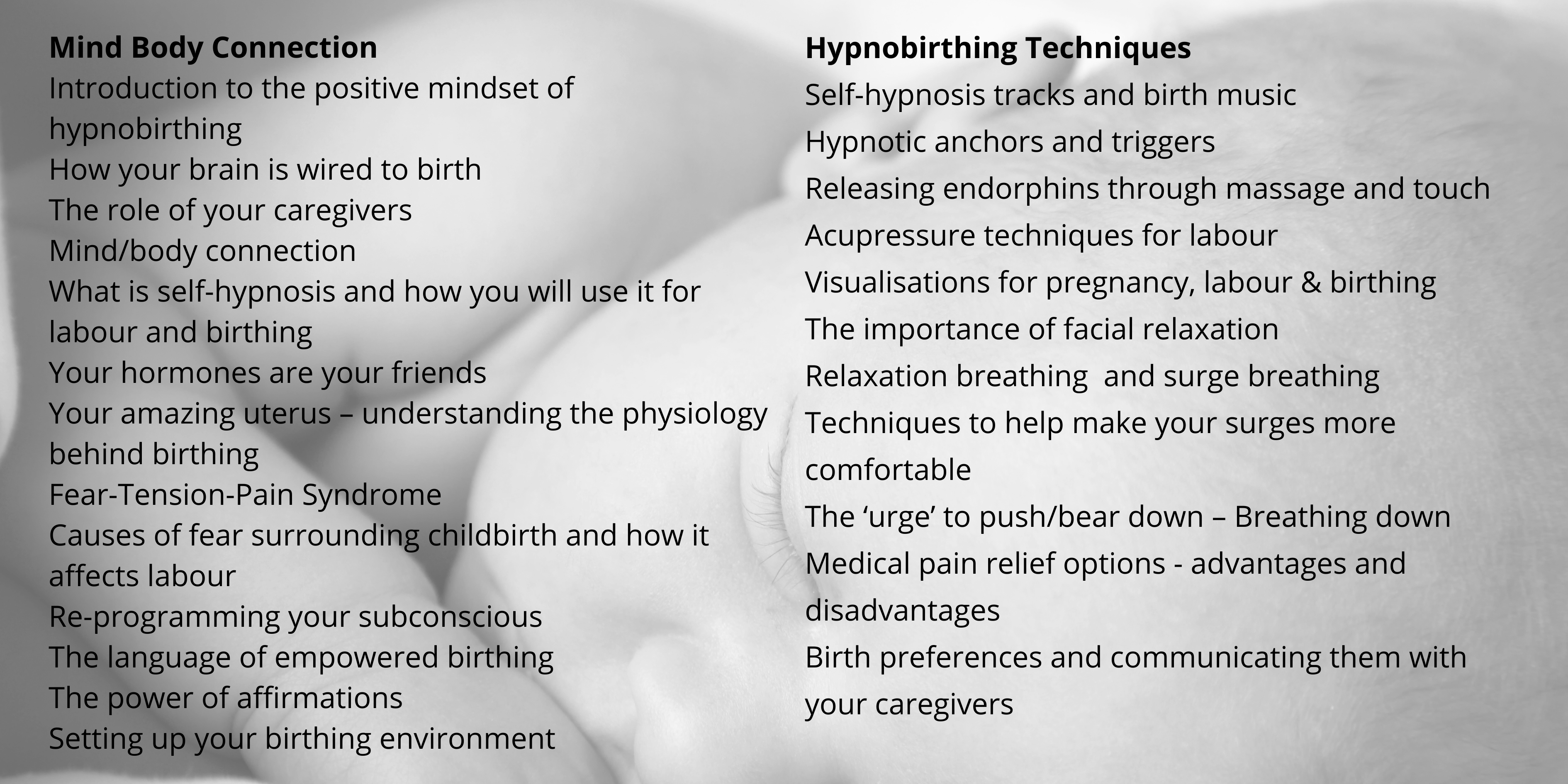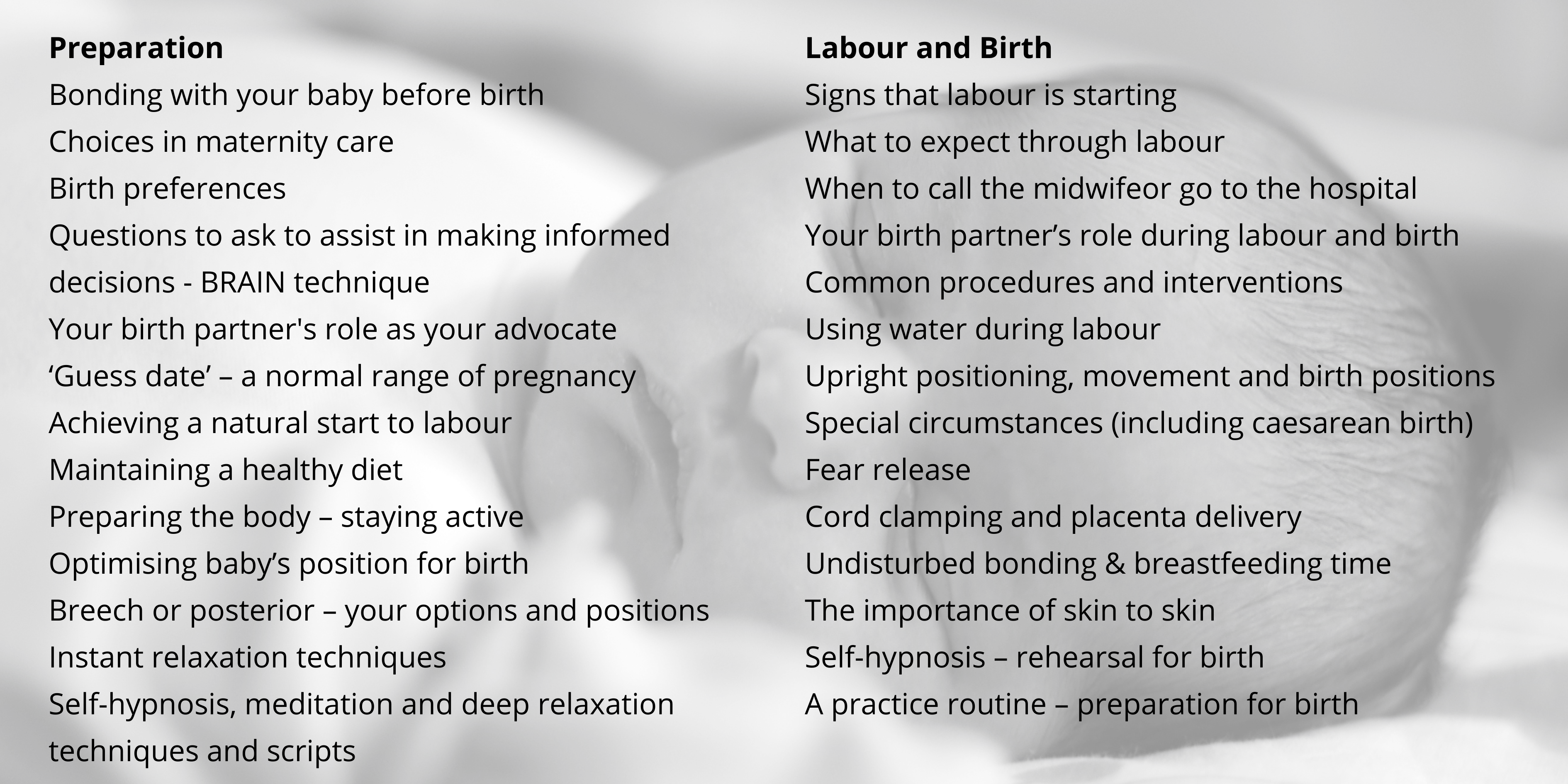 Program 2: Antental - What you will learn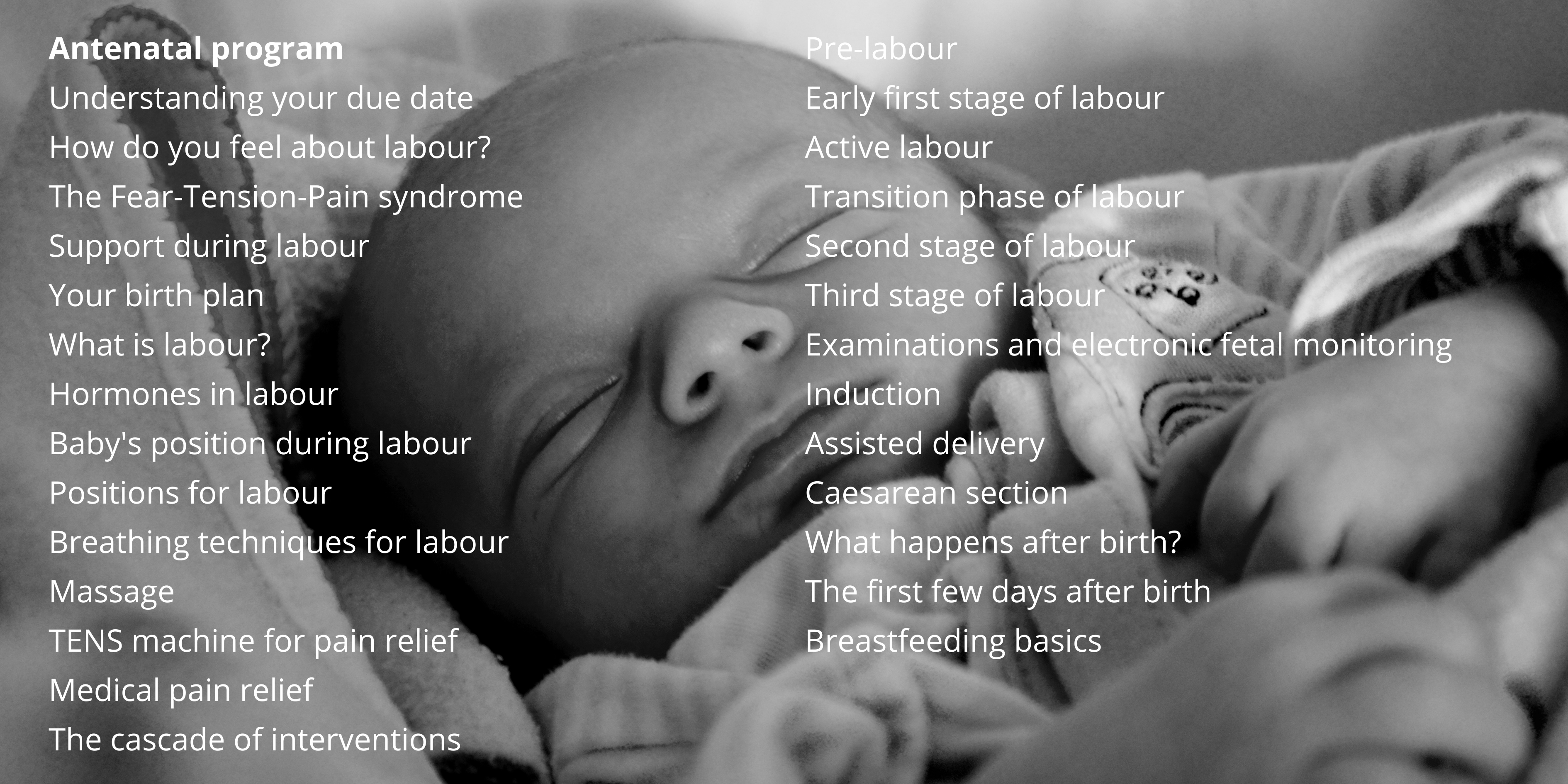 Program 3: Online hospital childbirth classes
The 'Golden Hour' after birth, Fear-Tension-Pain Syndrome, Anatomy of childbirth, What is a healthy pregnancy weight gain, Pregnancy nutrition, Causes and signs of premature labour, Braxton-Hicks contractions, Signs of labour, Dilation and effacement of the cervix, What to do if your waters break, The mucus plug, True versus false labour, Stages of labour, How to count/time your contractions, How your uterus contracts and your cervix opens to birth your baby, Cutting the cord, What to pack in your hospital bag, Positions for labouring, Types of massage for labour, Breathing techniques for labour, Strategies to use in active labour, Birth plan, The 4th trimester, Roadmap to labour, Baby's position during birth, BAR method of decision making, Fetal monitoring, Artificial rupture of membranes, Artificial hormones to start and speed up labour, Induction pros and cons, How to speed up labour naturally, Episiotomy, Pain medication - pros and cons of epidurals and narcotic analgesics, Vacuum and forceps extraction, Posteriour labour, How your birth companion can support you during labour, Reasons for a caesarean section, Placenta previa and abruption, Preparing for a caesarean birth, What happens during a caesarean, Skin-to-skin contact with mum and dad, Recovery after a caesarean, Breathing patterns, Pushing techniques, Birthing positions, APGAR testing and scoring, Bonding with your baby, How to wrap your baby, New born procedures that happen after birth, New born appearance, Breastfeeding basics, Colostrum and your milk coming in, Lochia, Kegals and pelvic floor exercises and Postpartum blues.
An open letter to expectant mothers.

From Melanie Rivers – Your Childbirth Educator
Many women look back and are disappointed or even angry about their labour experience and the birth of their baby. This is a one time event, you will never birth your baby again.
The beautiful, natural, calm, gentle birth they had envisaged goes terribly wrong as a cascade of unnecessary, intrusive and painful medical interventions are introduced that cause extreme pain to the labouring mother and that frequently result in labour failing to progress, resulting in an episiotomy or an emergency C-section. After birth the mother is sore or stitched up down below and across her belly, and it can takes weeks or even months for her to recover and gain back her full mobility.
The baby also experiences distress during labour. He or she may be roughly pulled out with forceps causing bruising and then once born, the baby may be drowsy and drugged from the pain medication mum took, and in many cases is then unable to successfully attach to breastfeed.
The mother feels that she has failed both herself, and her baby.
But it doesn't have to be this way.
Preparing yourself for labour, arming yourself with a range of birthing tools and techniques, understanding how your body works and how the hospital system works, can help set you up for a positive labour and birth experience one where, no matter what type of birth you end up having, you feel empowered, respected, informed and in control.
Hypnobirthing is a gentle approach to childbirth that will thoroughly prepare you for whatever turn your labour and birth takes. It will set you up from the start to approach labour without fear. Instead you'll feel calm and confident because of the understanding that your body already knows what to do to birth your baby and that you have the knowledge and techniques to work with your body, as well as make informed decisions along the way for both you and your baby.
If you're birthing in a hospital, you'll need to fit into their system, adhere to their policies, and work within their timelines, even if this isn't always in the best interest for you or your baby. The hospital staff may put pressure on you to be induced if you are past your estimated due date, they may want to perform unnecessary and intrusive medical checks that can then start a cascade of unnecessary and sometimes painful medical interventions. It can be very difficult to advocate for yourself and make informed decisions if you are unprepared, if you don't know how the hospital system works, or if you are tired and vulnerable during your labour.
Hypnobirthing does acknowledge that there are times when medical interventions are necessary such as when there is an urgent medical emergency, and this is when the knowledge of your medical team will be very welcomed and the environment of the hospital is the best place to be. This is also why I have included traditional antenatal hospital based childbirth education for you to complete in the event that your labour does take an unexpected turn. However, in the absence of any medical emergency, your labour and birth should be allowed to progress naturally on its own timeframe, without any pressure or deadlines to be met.
If you want to birth naturally and reduce the risk of the common complications, I encourage you to consider my Hypnobirthing plus Antenatal program as your choice of childbirth education. The more knowledge and techniques you have to draw on during your labour, the better!
Not only will Hypnobirthing help you have a calm, comfortable, easier and shorter labour, but Hypnobirthing also sets your baby up for a beautiful, calm, gentle birth and a more successful transition to bonding and breastfeeding.
I look forward to supporting you as you prepare for the birth of your baby.
While you are going through the Hypnobirthing course there is also online support. Please contact me at any time over email if you have any questions, I'm always available to help you and answer your questions.
Melanie Rivers
About your instructor - Melanie Rivers
Hi, I'm Melanie, I'm a university qualified nutritionist (post-graduate Deakin University) specialising in fertility and pregnancy nutrition and postnatal fat loss, a qualified personal trainer and Pilates instructor specialising in pregnancy and postnatal exercise, a trained teacher in natural fertility education, a Hypnobirthing instructor, childbirth educator and breastfeeding specialist.

I'm a mum to 2 boys and I'm based in Melbourne, Australia.
In my spare time you can find me outdoors being active. I love hiking, cycling, my family love to camp, I enjoy horse-riding and going to the gym. My happy place is out in my veggie garden surrounded by my chooks and bunnies.
Purchase now and use the code 'FIFTY' at the checkout for a discount of $50 - valid for 24 hours only
Your purchase includes a 30 day money back-guarantee
Yes, I want to learn Hypnobirthing and antenatal childbirth techniques to thoroughly prepare myself for a positive labour and birth.
Use code 'FIFTY' for $50 off if you sign up today

Frequently Asked Questions
What is Hypnobirthing?
Hypnobirthing is a childbirth education program that focuses on preparing you for a calm labour for yourself and a gentle birth for your baby. Hypnobirthing is the world's most popular birthing program, proven to work, evidence-based and now taught in many hospitals. You'll learn proven techniques of deep relaxation, visualisation and self-hypnosis to help you achieve a more comfortable, easier, shorter labour and a gentler birth for your baby. Hypnobirthing mums do not lie on their backs during labour, strapped to the bed and medical equipment, screaming in pain and begging for pain medication. Instead, you'll be taught how to move into comfortable birth positions, use breathing techniques, visualization and work with your mind and your body's innate ability to birth your baby so that you have a calm, peaceful and comfortable labour while gently bringing your baby into the world. Hypnobirthing is also beneficial for your baby. Hypnobirthing babies tend to be born alert, calmer, quieter, settle and sleep better and ready and able to latch on and breastfeed.
What will I learn in Hypnobirthing
Hypnobirthing will teach you everything you need to know to achieve a safer, easier, gentler and more comfortable labour for yourself and birth for your baby. Pain is not a necessary accompaniment to labour, and Hypnobirthing techniques will teach you how to manage, minimize and in some cases even eliminate pain so that you feel only tightening and pressure sensations instead of labour pains. You will learn techniques to help you achieve a state of deep relaxation during labour which is crucial to help you eliminate the Fear-Tension-Pain Syndrome which you will learn about. You'll develop a newfound respect, confidence and belief in your body's ability to birth your baby with ease and comfort on your and your baby's terms. You'll be less likely to require medicated pain relief that in many cases leads to a cascade of medical interventions, culminating in a C-section, as well as a groggy, drugged baby that finds it difficult to breastfeed and bond. Instead, you will learn how to create your body's own natural pain relief that is more effective at reducing pain than pain medication. You'll also discover natural and proven methods to bring your body into labour without artificial chemical induction. You will be in complete control of your labour and your baby' birth from creating a birthing environment that is calm and serene, rather than tense and stressful, to advocating and knowing how to make informed decisions for you and your baby as your pregnancy and labour progresses. You'll learn gentle birthing techniques that allow you to lovingly breathe your baby into the world without the violence of hard physical pushing or the need for extraction methods like forceps to pull your baby out. Hypnobirthing will teach you how to use your natural birthing instincts to work with your body to birth your baby in a way that most mirrors the way that nature intended.
How is Hypnobirthing different to other childbirth education programs?
Other childbirth methods tend to focus on teaching you the anatomy of childbirth and how to cope with and manage pain, including the different types of pain relief available as well as the different medical interventions and what they do. In contrast, Hypnobirthing is based on the premise that a healthy woman, with an uncomplicated, healthy pregnancy, carrying a healthy baby, should be able to birth in a comfortable manner without unnecessary medical interventions or medicated pain relief, resorting to this only if there is an emergency medical complication. Hypnobirthing teaches you that your body already knows how to birth your baby and you just need to learn some beneficial techniques so that you can work with your body to birth your baby. Other childbirth programs incorrectly assume that pain will be an inevitable part of labour and that you won't be able to manage labour pain unless you resort to medical pain relief. This can then lead to a cascade of painful and intrusive medical interventions. In contrast, Hypnobirthing teaches you how to manage, minimize or eliminate pain without medication, teaching you techniques for deep relaxation that work to eliminate the very fear that causes tension in the birthing body and labour pain. Hypnobirthing techniques allow you to work in harmony with your body and your baby to achieve a shorter and more comfortable labour and a gentler, calmer birth for your baby.
When should you start learning Hypnobirthing?
You can begin Hypnobirthing at any time, but the best time to start the program is when you are between 20 and 30 weeks pregnant. This will give you time to learn Hypnobirthing and then put in the time to practice the Hypnobirthing techniques. However, if you are outside of that range and have the time, and you're committed to learning and practising, you can still learn Hypnobirthing and achieve a beautiful, calm labour and birth.
Can I still attend ante-natal classes at the hospital?
Yes, you can do the hospital ante-natal classes and you can also do other childbirth education programs alongside Hypnobirthing. When it comes to your labour and the birth of your baby, knowledge is power. The more you know, the more empowered and in control you'll be leading up to and during labour, as well as able to advocate for your birth preferences. Take as much knowledge as can along with a variety of different tools and techniques with you into the birthing suite so that you have a lot of options, tools and techniques to draw on and use whatever situation arises, and you are fully prepared for whatever turn your labour and birth takes. The Hypnobirthing program is a very comprehensive program covering natural childbirth education. Hospital ante-natal courses cover information about medication interventions, medical procedures during birth, as well as medicated pain relief options. Other childbirth education programs will teach you different but still useful techniques you can take with you into the birthing suit. In Hypnobirthing you'll learn about the Fear-Tension-Pain Syndrome and how to manage, minimize or eliminate pain with Hypnobirthing techniques to have a natural birth. However, all birth programs are useful, so yes learn Hypnobirthing, do the hospital ante-natal classes, do other birth programs as well if you have the budget and time. Everything that you learn about your body and childbirth can help you prepare for your labour, can be something you draw on and use during labour, and will give you the knowledge you need to make informed decisions.
Is my partner or birth companion involved?
Yes, in fact your chosen birth companion plays a pivotal role in your labour helping you implement the Hypnobirthing techniques, setting up your birthing environment, communicating with medical staff and advocating for your birth preferences. During labour your birth companion guides you through the hypnosis prompts, relaxation techniques, deepening methods, and visualizations, provides comfort measures, and joins in welcoming the new baby, often by receiving the baby as he or she emerges.
Will I be unconscious, or will I remember my labour and the birth of my baby?
You are not unconscious during self-hypnosis. Instead, always you are aware of what is going on around you and able to come out of hypnosis should you choose. However, you are also able to block out any unnecessary distractions and focus only on your labour and birthing your baby. Think of self-hypnosis as being in a deeply relaxed, calm and meditative state that still allows you to be an active participant in your labour and the birth of your baby but you're in your 'birthing bubble' deeply focused, calm, relaxed but fully in control. Hypnobirthing mothers often find that they experience time distortion, they have more energy to continue labour, they take it all in their stride and are not distracted by other people or their birthing environment. Instead, you will become blissfully involved in your labour and able to focus on working in harmony with your body and your baby.
What if I can't have a natural childbirth or if circumstances change and I need a surgical birth?
You can't predict what turn your labour will take but you can prepare for the type of labour and birth you would like and then be well equipped should circumstances change. The techniques you will learn in Hypnobirthing will give you a range of deep relaxation skills that will be useful to both you and your baby during pregnancy and then during labour, regardless of the type of birth you end up having. If medical intervention of any sort is required, you will find yourself better equipped to remain calm and in control, as well as make informed decisions for both you and your baby. Mothers who have needed scheduled caesareans for medical reasons report that they were totally relaxed before, during and after the procedure. Many report that they needed little or no medication following the birth, and they were able to return to normal functioning in a very short period. During pregnancy listening to the Hypnobirthing tracks provides a wonderful opportunity for you to relax, for your baby to relax, and for both of you to bond during this precious time. Many Hypnobirthing mothers also find that playing the Hypnobirthing tracks after birth to their babies helps calm and settle their babies as well as helping them sleep.
Can Hypnobirthing be beneficial to someone who has special circumstances, VBAC or who must have a C-section?
Hypnobirthing is very beneficial for mums who have special circumstances. Many obstetricians, midwives and doctors are now requesting that mothers take a Hypnobirthing course or similar gentle birth program before VBAC (Vaginal Birth After Caesarean).
Is it true that I will experience a pain-free labour using Hypnobirthing?
Hypnobirthing does not promise a labour free from pain, although many Hypnobirthing mothers do report having a relatively pain-free labour, or a labour where they were able to manage labour pain easily. When the cause of labour pain – fear that constricts the birthing muscles —is eliminated using Hypnobirthing techniques, birthing can be accomplished in a shorter time period and much more comfortably and easily. Furthermore, birthing muscles need oxygen during labour to function properly so that they can birth you baby. You baby also needs oxygen during labour to stay alive. The breathing techniques you learn in Hypnobirthing help you to breath vital oxygen to your birthing muscles and your baby during labour. A relaxed mother's body will also produce more beneficial endorphins, nature's own relaxants or natural pain relief. Many Hypnobirthing mothers report that instead of feeling pain, they experienced sensations of tightening or pressure during labour. Many Hypnobirthing mums describe their labour experience as being able to easily and comfortably work with their body through the labour sensations and avoid the excruciating pain that is frequently spoken of by women who choose other methods of childbirth education.
What if my doctor/midwife is not familiar with Hypnobirthing? Can I still use this method and how can my healthcare providers help me to achieve my Hypnobirthin
Hypnobirthing is now very mainstream and more and more medical staff and hospitals are aware of the benefits of Hypnobirthing and are familiar with the Hypnobirthing program. Many hospitals offer Hypnobirthing classes and birthing suits are available for Hypnobirthing mums which allow you to create an environment that is conducive to a calm, comfortable labour. If your doctor or hospital is not knowledgeable about Hypnobirthing, take the opportunity early on in your pregnancy to discuss the techniques you will be using and the type of calm birthing environment that you would like. Hypnobirthing will help you to create a plan of Birth Preferences, which will help you communicate your labour and birth preferences to your doctor or midwife.